Our long weekend in Berlin didn't disappoint. It was the perfect blend of German history, mixed in with some incredibly inspiring girls from up and down the UK, with a sprinkle of autumnal vibes and lashings of sisterhood!
I had planned our days on two central themes – the rise of Nazism and the Berlin wall. We visited the Berlin Story Bunker, here we got to learn in-depth about Hitler's rise to power, the general atmosphere among Germans following their World War 1 defeat and how this gave rise to increasing support for the Nazi party. We were fortunate enough to meet Wieland Giebel, the brains behind the Berlin Story Bunker. He answered our questions and was really impressed to see such a large group of us from the UK visiting. Wieland is also an author, and he kindly gave each of us a copy of his book on the Berlin Story Bunker – I'm really looking forward to reading it.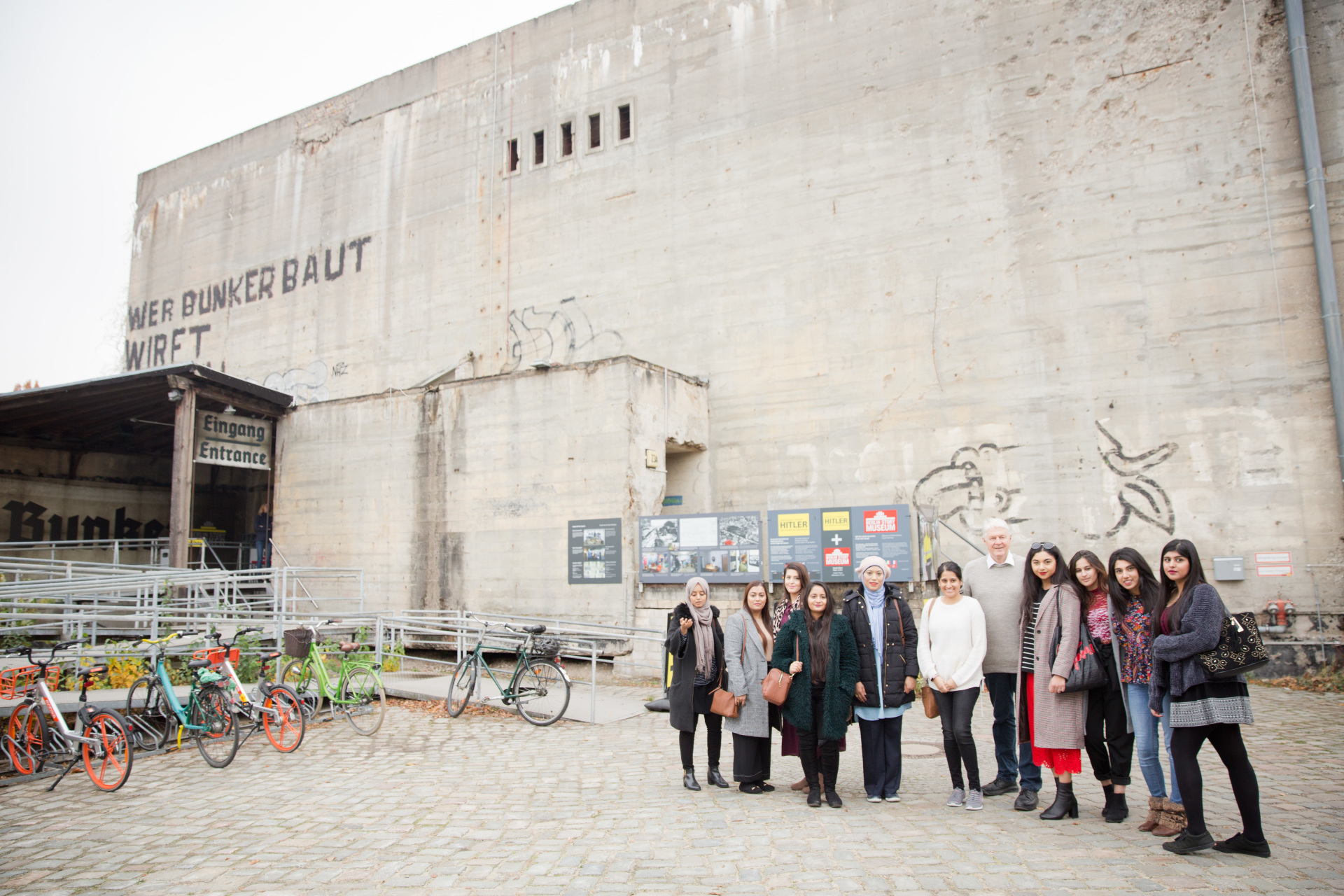 We visited the Bundestag, Germany's impressive parliamentary headquarters, the top of the building is a futuristic dome, it's definitely worth the climb up. I really enjoyed the modern interior design and the open-air ceiling.
We visited the last remaining part of the Berlin wall, which is now a memorial to freedom. It was so inspiring to see the bright, colourful and meaningful murals. Some with a direct message of peace, others with subtle underlined messages and some with provocative messages – one regarding Donald Trump springs to mind! I loved this part of Berlin, it was so hip and trendy.
Our apartment was close to Tiergarten Park, it was so beautiful and to me personified autumn! One of my highlights was walking through this park, on our way home late one night, in total darkness. This is something I would never do alone, and do not advise people to do alone! But with the 11 of us linking arms, I felt fearless. We had each other's backs. They were my crew!
My Berlin group, I loved experiencing Berlin with you. This was a mixed group, I had girls who had travelled with me previously and joined me again, and girls I had never met before and was so excited to meet and get to know. We clicked instantly. I understand that it can be daunting to travel with strangers, I have been there myself. However, from my experience with the Girls Group Holidays, I can guarantee within minutes you will feel like you are a family or really good friends. I'm pleased to say it always happens, and inshallah it continues to do so.